I work with a small group of people under the radar who are updating our economy from one build on the the udders of our cows, to one build on the substance of our people. Coaching, Meditation, Sudarshan Kriya and Venture Capitalism are our tools of choice to do this.
Well, by making a mistake. The first part of my lifeI was pretty driven.
After graduating from University I stepped into the paradoxical dual-worlds of acting and hi-tech entrepreneurship. From the mid-90s to the 2000s I was part of 3 teams that took tech-companies global from NZ. At the last one (as CEO & founder) we created "Geneious" -which today is the de facto standard for the world's 2 million molecular biologists. Yes, the one they're using to analyse how the COVID virus mutates.Each of the three tech-companies achieved exits. At the same time, I performed an acclaimed solo-show, had two different feature roles on America's #1 rated TV show at the time, and appeared regularly on NZ screens.
In 2006 – a chance meeting with a Māori elder helped me see the mistake I'd made. The currencies I once valued lost meaning. Since thenI've stopped hatching big plans, and tried to focus more on simply being present and living from the heart.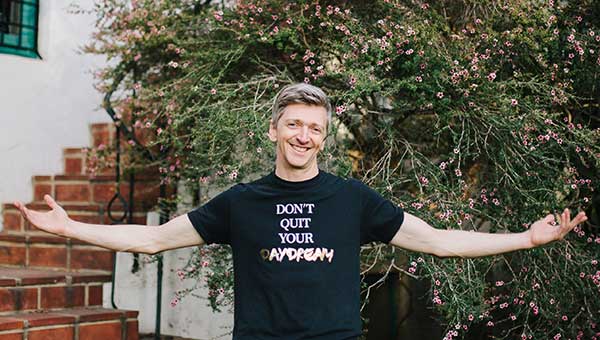 Ironically, being unattached spawned more big projects than ever! The difference is that today, I and those around me are joyful. Today I run breathing and meditation courses for the Art of Living Foundation, a VC company and a coaching company. With a small team, we've innovated how VC and coaching work, because we found how the tech-sector did them was beneath our standard.
We've invested in tech for 19 years, coached 50+ CEOs of tech-companies & 500+ scientists with commercialisable IP. Nowadays I coach visionaries, educators and change-makers.Together, they are creating measurable ripples to NZ economically, ecologically and socially.
Oh yes, the relevance of the video on this page?
I believe life is an expression of joy, not the pursuit of it. I believe humans should be multidimensional – not one dimensional.
Who said a tech-entrepreneur can't also be an actor, great dad, Venture Capitalist, meditation teacher and coach? And … I don't believe in miracles … I rely on them!
Believe it or not, this video has a story behind it. If you're curious, you'll find the right video right away under Insights->Spiritual Journey. It contains a secret about how I run my life, and how my clients run theirs.